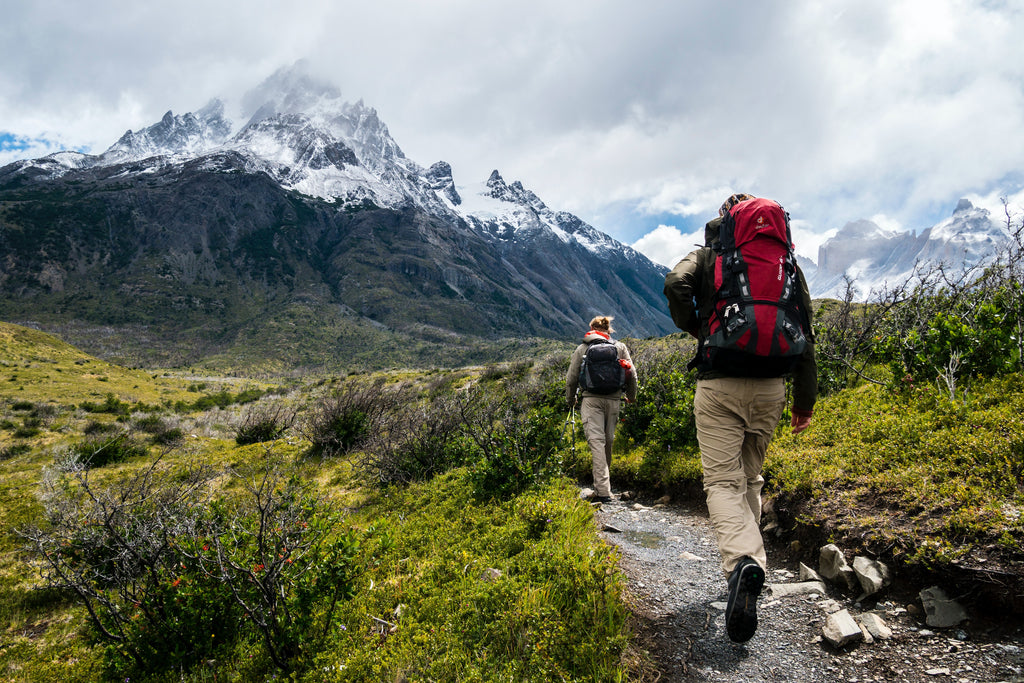 Hiking Boots vs. Hiking Shoes: Which One is Right for You?
If you're a hiking enthusiast, or even if you're just getting started with your hiking journey, it's important that you build a solid hiking kit. When putting together a strong hiking kit, there is one thing that we cannot forget. And that is, good, strong and dependable footwear. You would ideally want to look for something that is breathable, waterproof, durable and fit for the terrain. There are more things to look out for, but not to worry, we'll be getting into all the nitty-gritty in this blog post.
What is the best hiking footwear choice for you?
When it comes to hiking footwear, there are two main types of footwear that you can choose from. That is, hiking shoes or hiking boots. We're going to talk about which is the better choice for you and how to choose one that will be better for your next hiking adventure.
Hiking Boots
An extremely popular choice for hikers who are carrying heavy and huge hiking backpacks, or taking on rough terrains, is hiking boots. Hiking boots are generally higher cut than hiking shoes. This results in more ankle coverage and better support and stability for your foot and ankle. What's more is that hiking boots are typically made of sturdier materials. So, you would have much thicker soles and tough uppers which would protect your feet against rocks, rough roots and any other hazardous material found on your hiking trail.
The benefits of hiking boots:
As mentioned before, due to hiking boots being made from sturdier material and being taller and thicker than hiking shoes, you are guaranteed superior ankle support and stability. This is very important especially if you're taking on tougher hikes and if you're carrying heavy hiking bags. Wearing hiking boots also offers you more protection from severe weather conditions such as snow, mud, slippery grounds and rain. They're also a lot more comfortable to hike in! Remember to always go into store and find out which boot works best for your foot shape, otherwise you'll just end up with sore feet.
The downside of hiking boots:
Since some hiking boots can be on the heavier side, some hikers may find it a bit uncomfortable. It also has a longer break-in period than hiking shoes, so they tend to be a bit stiff when wearing them for the first time, however with time they do adjust to your feet. Another thing to mention is that some hikers may find them to be a bit warm for those hot summer hiking days. Overall, when it comes to hiking boots, the pros do outweigh the cons; it just comes down to the level of protection you require and how comfortable you are hiking in them.
Hiking Shoes
When it comes to hiking shoes, the first word that comes to our mind is, lightweight. Hiking shoes, compared to hiking boots, are super lightweight. Hiking shoes are lower-cut, while its soles are softer and more flexible than hiking boots. This then allows for more natural foot movement which some people prefer. Hiking shoes are still very durable and they're made of lighter and more breathable materials. This makes them an excellent choice for warmer weather hikes, as well as ones that are less strenuous or rough.
The benefits of hiking shoes:
As you already know, hiking shoes are lighter and more comfortable than hiking boots, which some hikers prefer. There's also a shorter break-in period due to their softness and flexibility. If you're heading out for hiking in the warmer weather days, you might prefer hiking shoes as they are super lightweight and are made of more breathable materials.
The Downside of Hiking Shoes:
Hiking shoes offer less ankle support as opposed on hiking boots. Thus, making it unsuitable for hikers that are carrying heavy hiking backpacks or tackling quite rough terrains or trails. Moreover, it also offers less protection from severe weather conditions such as snow, mud and rain. If you think that there might be a chance that you experience harsh weather, you should definitely consider hiking boots.
Choosing the Right Hiking Footwear
Factors to consider when choosing between hiking boots and hiking shoes include:
Firstly, what terrain would you be hiking on? If you are tackling a difficult, strenuous hiking trail that have a lot of hazardous pathways, hiking boots are probably going to be the better, and safer option for you. Keep in mind that should harsh weather hit, it could definitely affect all other aspects, for example, rain would result in slippery rocks and mud. It is important that you take the proper precautions to ensure your safety and the safety of others. If you are going to be hiking on a well-maintained, calm trail with moderate terrain, hiking shoes would be a good option.
Secondly, you will need to find out how long your hike will take and how far it is. If you're going to be hiking for several hours that would take up the whole morning and afternoon, you may want to consider hiking boots as that will offer your ankles and feet maximum comfort, support and stability. However, if you're taking a short hike, let's say around 2-3 hours, hiking shoes would be the more comfortable and practical choice.
Lastly, choosing between the two footwear also comes down to your personal preference. Some hikers prefer the protection and support that the hiking boot offers, while finding it super comfortable, while other hikers prefer the flexible and lightweight feel that hiking shoes offer. You'll often find hikers wearing their boots even on shorter hikes all because they find it to be much more comfortable for them and vice versa. With that being said, it would be best to try on both and walk around in them for a short while. This way you can decide better on what option would be best for you.
Tips for Choosing Hiking Footwear
Try both hiking shoes and hiking boots to get a feel of them for fit, protection and comfort. Remember to take along the socks you're going to wear on the hike so that you get a proper fit/size.
Choose footwear that has good traction as this helps protect you from slips and possible falls on the trail.
Take the weather and climate of the area that you will be hiking in into consideration. This will determine whether you need your footwear to be waterproof or water-resistant.
If you have any medical foot concerns, consult a professional for proper so that you can choose footwear that best suits your needs.
Quality, quality, quality: Don't compromise on quality when it comes to choosing your hiking footwear. Investing in a good pair of hiking shoes or boots can make the worlds difference to your hiking experience.
Whatever hiking footwear you choose, the most important thing is to choose one that is comfortable, stable and one that offers ample support. Consider all the factors that we've mentioned to ensure that you have an enjoyable hike all while staying comfortable and safe!